December 3, 2018
Hunting Beautiful Natural Stone in Brazil
Last month our company owners, Omer and Simone embarked into an amazing adventure to the lands of South-america with Antolini of Italy, to hand-select stone, because this is the only guaranteed way to find the very best quality and discover stones which are new to the market.
During their trip they visited three of the most exquisite stone quarries in Brazil and one of them owned by Antolini. While Brazil is very famous for its granite slabs and exotic quartzites, several other stone types are also produced there. This time they traveled to the state of Espirito Santo, just north of Rio de Janiero, a famous stone extraction and stone production place. Quarries in this area are spread out in the mountains and can be time consuming and difficult to visit due to the rugged and mountainous terrain. The Very trendy colors in our design industry like Lumix, Calacatta Do Brasil and Taj Mahal Quartzites are found in this areas. At the end the reward of finding new stone is well worth the effort.
RELATED News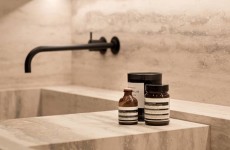 February 1, 2019
PRODUCT KNOWLEDGE: TRAVERTINE
Travertine is formed by calcium-rich spring hot water. The travertine-forming process can happen anywhere that has the combination of hot water and limestone. QUARRIES AND HISTORICAL BACKGROUND Major travertine quarries exist in Turkey, Mexico, China, Peru, and Iran. But Italian travertine may have the most compelling history. Fueled by the same geothermal heat as Mt. […]
READ MORE
December 22, 2018
KBIS 2019
February, 19 – 21, 2019 This year one of the  premier kitchen and bath design show event will be hosted in Las Vegas, Nevada. This Kitchen & Bath Industry Show (KBIS) is one of North America's largest trade show dedicated to all aspects of kitchen and bath design in specific. Tons of displays through out […]
READ MORE
December 5, 2018
Azerocare: The Innovated Treatment Technology by Antolini.
A new treatment from Antolini, the leading innovative producer of natural stone and vanguard of the industry, stands to revolutionize how we use and think about natural stone. Without sacrificing or affecting the colors and characteristics of natural stone, Antolini's Azerocare treatment is the first ever of its kind to offer polished marbles, onyxes and […]
READ MORE