June 21, 2017
CASA(Court Appointed Special Advocates)Open House!
Galleria of Stone and the local Community are proudly contributing in Casa's Open House Event to raise money and support the children that come out from abusive and unsafe homes in order to provide a brighter and better future for these kids. Below is a little information on what CASA does, as well as the event information.
                  CASA/GAL volunteers are appointed by judges to watch over and advocate for abused and neglected children, to make sure they don't get lost in the overburdened legal and social service system or languish in inappropriate group or foster homes. Volunteers stay with each case until it is closed and the child is placed in a safe, permanent home. For many abused children, their CASA/GAL volunteer will be the one constant adult presence in their lives. 
Independent research has demonstrated that children with a CASA/GAL volunteer are substantially less likely to spend time in long-term foster care and less likely to reenter care. Judges appoint CASA volunteers to represent the best interests of children who have been removed from their homes due to abuse or neglect. Each year, more than 600,000 children experience foster care in this country. 
RELATED Events
December 22, 2018
KBIS 2019
February, 19 – 21, 2019 This year one of the  premier kitchen and bath design show event will be hosted in Las Vegas, Nevada. This Kitchen & Bath Industry Show (KBIS) is one of North America's largest trade show dedicated to all aspects of kitchen and bath design in specific. Tons of displays through out […]
READ MORE
November 1, 2018
DOWNTOWN LOCATION SOFT OPENING CELEBRATION
On the night of October 18th, 2018 Galleria of Stone celebrated the soft opening of their second location in Denver, Colorado. We were amazed and delighted by the crowd that turned out—nearly 85 guests from the industry  that came to sneak peek the new venue. Great Italian wine was served through out the night and  […]
READ MORE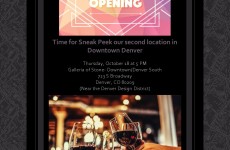 October 18, 2018
SECOND LOCATION – SOFT OPENING
We are so excited to share the great news of our second location in Downtown Denver… On October 18th, 2018 at 5 PM we will be hosting  a soft opening for the public to sneak peek the space. We are inviting the industry partners, home builders, interior designers, kitchen and bath designers and the entire […]
READ MORE