September 22, 2016
CARE 2016 AWARDS GALA
Galleria of Stone was a proud sponsor of the 2016 CARE Awards Gala,  here is a brief summary of the contest:
The Colorado Awards for Remodeling Excellence, known as the CARE awards, are the largest and longest running contest recognizing remodeling of all types, including both commercial and residential. Categories are numerous, and include kitchens, bathrooms, green building, and much more.  Unlike other HBA-sponsored design contests, CARE is open to all, not just members of the Home Builders Association of Metro Denver or its Custom Builder & Remodeler Council. CARE awards are judged blind by local volunteers, making it a fair competition that recognizes excellence in remodeling, no matter the authorship.
CARE winners are regularly recognized is many local publications including by not limited to Colorado Expressions magazine, Colorado Homes & Lifestyles magazine and the Denver Post.
The event took place  on Thursday, September 22nd. The event was held at the beautiful AMG Dome Plaza in Greenwood Village where guests enjoyed a magnificent sunset from the rooftop deck.
You can view all the winners here:http://www.thecareawards.com/2016-care-award-winners/
Galleria of Stone wants to thank all the participants for making it a pleasant night.
RELATED Events
December 22, 2018
KBIS 2019
February, 19 – 21, 2019 This year one of the  premier kitchen and bath design show event will be hosted in Las Vegas, Nevada. This Kitchen & Bath Industry Show (KBIS) is one of North America's largest trade show dedicated to all aspects of kitchen and bath design in specific. Tons of displays through out […]
READ MORE
November 1, 2018
DOWNTOWN LOCATION SOFT OPENING CELEBRATION
On the night of October 18th, 2018 Galleria of Stone celebrated the soft opening of their second location in Denver, Colorado. We were amazed and delighted by the crowd that turned out—nearly 85 guests from the industry  that came to sneak peek the new venue. Great Italian wine was served through out the night and  […]
READ MORE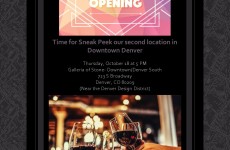 October 18, 2018
SECOND LOCATION – SOFT OPENING
We are so excited to share the great news of our second location in Downtown Denver… On October 18th, 2018 at 5 PM we will be hosting  a soft opening for the public to sneak peek the space. We are inviting the industry partners, home builders, interior designers, kitchen and bath designers and the entire […]
READ MORE