December 5, 2018
Azerocare: The Innovated Treatment Technology by Antolini.
A new treatment from Antolini, the leading innovative producer of natural stone and vanguard of the industry, stands to revolutionize how we use and think about natural stone.
Without sacrificing or affecting the colors and characteristics of natural stone, Antolini's Azerocare treatment is the first ever of its kind to offer polished marbles, onyxes and soft quartzites full protection from etching and staining caused by contact with acid-based food elements. Azerocare also provides water-repellant and oil-repellant protection from staining and etching caused by oil, fat, and greasy elements.
Through an advanced treatment process implemented by Antolini during their preparation of the stone, Azerocare transforms marble into a durable, bacteriostatic, UV-resistant surface, protecting the one-of-a-kind designs created by nature. The new properties open up expanded marble application opportunities, in homes and businesses, particularly as the Azerocare treatment increases the hardness of the stone.
Azerocare is applied into the surface of the polished material right on the factory, the process is eco-friendly since it does not produces any atmospheric emissions or production scraps.
Galleria of stone has one of the biggest inventory of Azerocare slabs  available in Colorado.
CLICK TO SEE AZEROCARE CURRENT INVENTORY
RELATED News
June 11, 2020
Product Knowledge: Quartz vs Quartzite
Quartz is often confused with Quartzite, but is there a difference between the two? The major difference is that Quartzite a natural stone and Quartz is engineered material. Lets take a closer look at the pros and cons for both. Quartz is engineered material, it's fabricated from natural silicon dioxide and synthetic materials. Loose quartz […]
READ MORE
March 1, 2019
ANTOLINI TECH ( Porcelain Slabs)
Although Antolini is worldwide recognized as the greatest in the natural stone world, in 2017 they introduced Antolini Tech to the stone Industry. Antolini Tech is a collection of porcelain slabs that contain the high resolution prints of antolini natural marbles and soft stones throughout the surface to mimic the look of natural stones. Made […]
READ MORE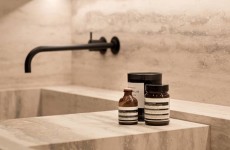 February 1, 2019
PRODUCT KNOWLEDGE: TRAVERTINE
Travertine is formed by calcium-rich spring hot water. The travertine-forming process can happen anywhere that has the combination of hot water and limestone. QUARRIES AND HISTORICAL BACKGROUND Major travertine quarries exist in Turkey, Mexico, China, Peru, and Iran. But Italian travertine may have the most compelling history. Fueled by the same geothermal heat as Mt. […]
READ MORE