December 4, 2021
10 Year Anniversary – Casino Party
                                                                                           Galleria of Stone is proud to announce the 10th anniversary.
In honor of this event we had a Casino-style party.  Dices were rolling, cards were shuffling and the night began!
Accompanied by the live music and brilliant DJ everyone had an amazing time.
Magicians and fire show added extra spice to the evening,
cozy fire pit and amazing people made the night welcoming and warm.
And everyone who attended signed the slab! Yes, you read it right!
We had a slab for signing! It was an absolute blast and the celebration went on until the morning.
We appreciate the loyalty of our customers.
As we continue to grow, we want you to know that one thing will never change:
our commitment to Galleria of Stone values.
RELATED Events
December 22, 2018
KBIS 2019
February, 19 – 21, 2019 This year one of the  premier kitchen and bath design show event will be hosted in Las Vegas, Nevada. This Kitchen & Bath Industry Show (KBIS) is one of North America's largest trade show dedicated to all aspects of kitchen and bath design in specific. Tons of displays through out […]
READ MORE
November 1, 2018
DOWNTOWN LOCATION SOFT OPENING CELEBRATION
On the night of October 18th, 2018 Galleria of Stone celebrated the soft opening of their second location in Denver, Colorado. We were amazed and delighted by the crowd that turned out—nearly 85 guests from the industry  that came to sneak peek the new venue. Great Italian wine was served through out the night and  […]
READ MORE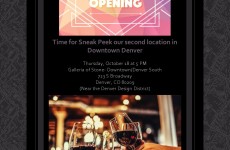 October 18, 2018
SECOND LOCATION – SOFT OPENING
We are so excited to share the great news of our second location in Downtown Denver… On October 18th, 2018 at 5 PM we will be hosting  a soft opening for the public to sneak peek the space. We are inviting the industry partners, home builders, interior designers, kitchen and bath designers and the entire […]
READ MORE